NVIDIA just dropped a massive update for the SHEILD TV
Which could be why apps are deleted. In theory it shouldn't but it happens.
After any update to your device make sure Google play protect is off, sometimes updates restore defaults or turn stuff on.
@TXRon
Thanks for the update, I was curious when the mJor update was coming.
yea maybe thats the reason my kodi started not playing nice

Usually when something like this takes place I just jump in the bunker and take cover for a few days before I make any drastic changes to my system.

Aha, typically an update like this will break code or something which effects anything installed and sometimes restores defaults or adds something to the os you are unaware of.
After an update if there is issues of apps or something not working especially those non Google apps uninstall and reinstall.
Just turned mine on and the update asked to install. It went smooth and as of now, everything is still intact. The only message that popped up was from VPN Safety Dot saying it was built for an older version of Android. I deleted and reinstalled with same message but it's working so far. Message noted it may not function properly
I didn't mean it does it each and every time. But it happens, sometimes apps need to be updated to the new os.
Glad everything is working and you didn't lose anything.
I did go into settings to see if Play Protect was on and the option to change it is gone or moved. This is the shot of me following @TROYPOINT tutorial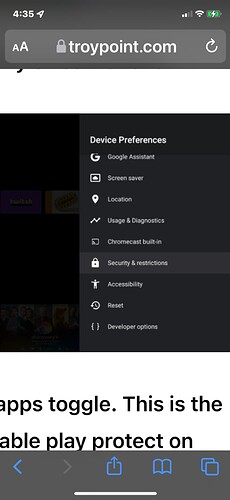 That's not good. Is there something that says verify apps? That should be off.
If they made it so play protect is embedded into Android tv on those devices that will be a problem.
I'm checking through everything now
upgrade in progress…will report soon
nothing affected so it seems. play protect still off
Where did you find it or did you just download something to check?
look under apps, security
at the very bottom of apps is security and restrictions
I see your security under devices and mine(after upgrade) is under apps
Thank You for that! I went through the tutorial and thought it vanished because it's not where it should be or I followed it wrong. You rock!
Just verified and that's where it's at. I hope others see this so they don't freak like I did​:rofl:

You had me worried…so I hadnt upgraded yet…so I took a dive off the cliff and did