How do I download on my Samsung phone.I have premium on my firestick using4.6.1
Is there a way to download it on iphone
I don't think so. TiViMate isn't for iOS.
Thats like comparing Apples to Androids
And I have it on my Blackberry

The youngsters on here can search online if you don't know what a Blackberry is



Tivimate isn't configured for use on touchscreen devices. On my phone I use Smarters instead. On my tablet I have Tivimate installed, but the trick is I use my phone as a Bluetooth remote for the tablet.
For those with iPhones…just saw this posted at my iptv discord room…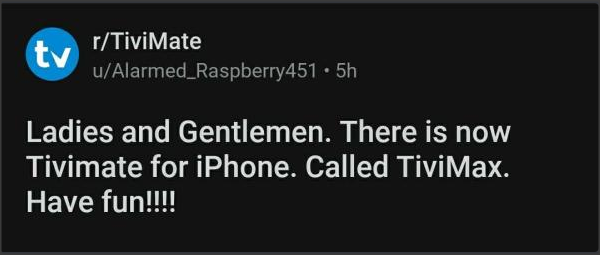 OMG it's about time. Now I can look ater the i ppl.

If you want Tivimate on your phone download Unlinked and then you can download Tivimate.
You can get Unlinked from your PlayStore on your phone.
Just remember Tivimate is NOT optimized for play on a phone. It becomes a bit of a challenge to navigate on the phone, but can be done. A better app for phone use is called televiso. Which is also available on the Playtore.