Anyone else having issues with Syncler?
Fire Stick app Error:[Z:-2,null]
Pulling up Syncler.net results in attached error.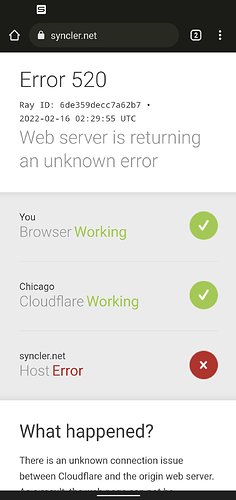 looks as if syncler is doing maint or some update, I would imagine it will be back up soon.
Hopefully just an update!
I thought that might be the case. Hoping some other can confirm it's not just on my end.
Guess I'll switch to SmartTube and find something there.
I'm getting a similar error.
I was about to post my problem with Syncler just now, when I first checked if anything was already posted. I am not getting that error message mentioned above, but what I am getting is "provider packages not installed'. Except that they are installed? I just watched a movie on Syncler. I rechecked everything, nothing looked incorrect. I deleted Syncler to do a fresh install from RAI but it will not download. I can see the icon on my FireTV but it doesn't actually download. Is this something that should self-correct once the server is updated or whatever is going on? I do have the premium package.
Yes!! I have 2 Fire Sticks and neither Syncler nor Cinema HD are working on either one. I tried Unistalling and Installing and it will not install. Trying from the TP Rapid App Installer. What is going on?
Yes I get the Provider package not installed and I too have Syncler +
Just d/l a new provider package and install it…job done
Just now checked and everything seems be working as it should. They probably were doing some sort of maintenance?
Update your provider package. If that doesn't work then uninstall provider package and reinstall.
Syncler is down. Please wait till it's up.