Anybody tell me what that v on some of the countries means
if its the v to the right its a drop down list of more connections(locations)
So u go down countrry an say Algeria right on the flag thete is a v but if u look at Albania there isnt 1
correct, only 1 server in albania. The v indicates multiple
Ok i think i understand what your saying now it doesnt actually do anything it just that country with the v has multiple servers to check for you instead of 1
the V is just a drop down box, nuthin' more
I've always known it as a "Virtual" server location as opposed to the physical location of it. I just checked and here's some information to check out
The v in the app represents a drop down list of more servers in that country. No v means just 1 server.
Virtual servers are plenty and not desirable unless you get one thats fast or close but generally you want a physical server preferably owned by your provider.
Are these the "V" icon you are referring to? If they drop down then I haven't figured out how to do that. I even tried with a mouse but nothing happens except it selects that server to use.
So, I have to agree with @Streaming429 that it is an indicator meaning it is a virtual server.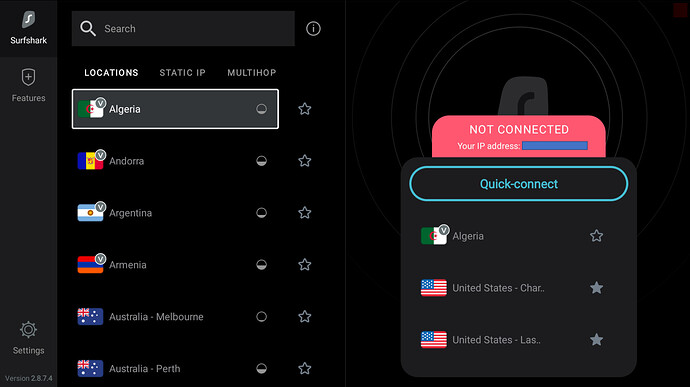 Ok 2 different v's and 2 different meanings. I never disagreed a v couldnt mean a virtual server it was what I percieved the person was looking at on screen. So depending on which v it was both answers are correct.
Yes it is the v the streaming429 an power fader are taking about sorry to mislead you txron
Also sorry to take so long to get back to all of.you i was away