Yes it does!
See my video demonstration and post on this.
Nice to see you clarifying this for people. Good read!
Ahhhh yes, this is great and it comes from our trusted source.
Even tho rd has a black list doesnt mean it wont work with it. Thanks for posting this.
I can vouch

…and after complaining that syncler was not working…I realized my RD account had expired

… went over to RD page, dropped my vpn, renewed and all is well,

I've been using Surfshark for 2 weeks and do have not had a problem with Real-Debrid… Works just fine.
Yes they do work very well. I have been a long time RD user and been using Surfshark since last month. There has been no issues at all working together.
Funny when the last Insider edition came out with Surfshark review I was a little surprised on the review.
Anyway it all has been rectified. Keep up the great work.
I know Surfshark is a sponsor of Troy, but please beware Surfshark does monitor your activity. I was really shocked when I got a Surfshark pop up that indicated the page I was viewing may contain Fake News links. Maybe Surshark considers that the malware blocking capabilities they advertise. You need to trust your VPN provider.
yep saw that and its with browser extensions. Surfshark has stopped that as of yesterday so im told due to customers complaining. Same thing going on with Telegram right now as well. Simply said people do not need nanny companies telling people who to believe.
Thanks for this information. Are you sure the warning was referencing "Fake News" or did it say, "The site may be unsafe?" The description for these two items are very different. Yeah, I would have a big problem if it said fake news but if it is warning you of an unsafe site, that's what the malware protection is supposed to do. If anyone can share an actual screenshot with the exact wording, that would be wonderful. Thanks guys.
Thats an intresting read, i believe you where notified of malware or related, surfshark has a no log policy, so if in fact they where tracking logs would void that, also owned by nord which is based out of Panama.
Surfshark may do data analysis or something but with a no log policy in play to digitally track you of everything would be a violation. Its alsp possible the site you connected to triggered a auto flag. But as troy indicated a screenshot would be helpful. I didnt mean to but in, i just wanted to share my 2 cents
Edit: pm me the website it happned on, i have an idea.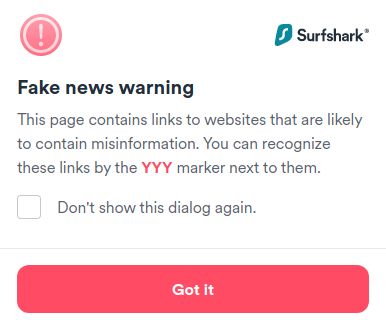 I see whats going on. There is a bunch of websites surfshark adds to there "fake news" list and when you access it, it triggers this flag, its not tracking you persay its more of a auto flag, id ignore it and go to the website anyway. Unless its a malware event.
This is a on going issue with big tech garbage trying to control what you see.
strange is I read they had stopped flagging sites due to complaints. ive also read you can disable it. As far as surfshark vpn I see nothing while using it on router or through terminal on my linux pc. I do not use the extension.
Thanks for this screenshot. Im going to reach out to them anout this. Its ridiculous. Let the user decide what is fake and what isnt. Unbelievable.
Well, i did contact them, and they did disable this. But i agree with this being unacceptable. Lets see what they say to troy on this. Waiting for his response. But i thought i would throw this in here for everyone els to disable it if its still showing.
Hey there!

I'm glad you have contacted us!
We have disabled the Fake News feature, please check if your browser extension is on the latest version.

Additionally, if the Fake News alert feature is still showing for you, follow these steps to disable it:
Go to the Surfshark Extension → Settings → VPN Settings → Fake News → Switch to Off.
Lastly if you are still seeing the Fake News alerts after this, clear your browser cache following this guide:
Edit: I contacted when this frist showed up. It just to them awhile to get back.