Deleted channel stuck in EPG favourites on iptv and won't allow me to add more favourites.
Which IPTV app is this in?
Hi Elizabeth welcome, what is the name of the IPTV APK that you are using……
Not sure. It's in the iptv Smarters with Troy point. Is that what you are asking?
This is what I get. Even though it shows 3 favourites in the first photo. Only the one in blue that was previously removed from favourites is what is left and it won't move.
Photos attached.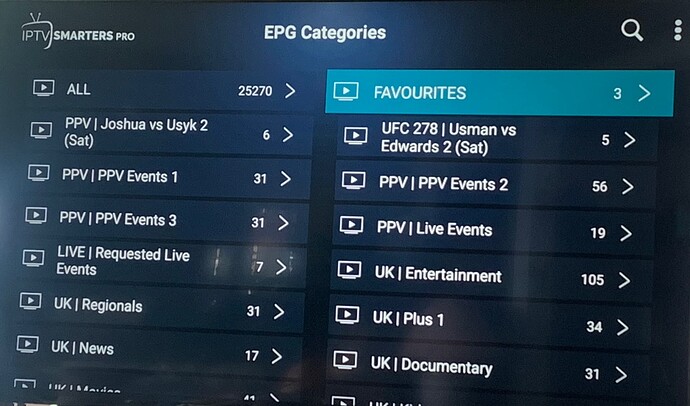 Hi Elizabeth yes that is what I wanted to know…the smarters pro has been kind of quirky since it's last update, you can delete it try again and re download it, or also in the rapid app installer download the xciptv player 5.01 it's a different format but in my experience works better than smarters.
Yes that's what I wanted to know. Personally "smarters" isn't that good. I spent the $25 U.S. and bought a lifetime Sub of TiviMate. Might be worth looking into.
There is a whole guide and video of tivimate on here and also troy does a good job with his review on it as well.
Thanks for your suggestion. It worked.
This topic was automatically closed after 7 days. New replies are no longer allowed.