I have been trying to open for hours. I unplug and try. Nothing helps.
Kodi is fine, this isn't a public issue. Tell us more about your setup.
What addons have you recently used?
If you have used FEN then it potentially could cause an issue to where Kodi won't open.
Also look through your Kodi logs using a file explorer.
There is likely an error within the log that is causing your issue.
Is this on a firestick, if so clear the cache and then restart the firestick…
I have been using fen for over a year. Why now a problem.
Over the last couple of weeks, I was using FEN and noticed that it would crash Kodi.
Then I would get stuck at the loading screen of Kodi the next time I would try to boot it up. Of course I would try the usual quick fixes: clear the cache, force stop, power off the device overall. None of these fixed the issue of Kodi getting stuck at the loading screen and never opening.
After doing some research, apparently an error occurs within the Kodi Log that causes it to do this. From what I read, you can look into your log and simply delete the Kodi Log file producing the error and Kodi may reopen for you.
The culprit may read something like this:
ERROR: SQL: [textures13.db] SQLite error
This article does a great job of explaining how to get to your Kodi Log using various devices and methods. I would suggest using ES File Explorer if you are using an android device.
If all else fails then you may just have to wipe all data and start with a fresh install of Kodi. That is what I did before I researched deleting the kodi log files.
I honestly don't know if the issue is with FEN itself or not.
I just know that this issue has happened to me twice now on two separate devices and both times I was searching for something to watch using FEN.
I really like the addon, but I have shelved it for the moment and am using a fork called EZRA.
Ezra has been my go to for about 8 months and it's been flawless. I'm always surprised that nobody talks about Ezra.

I had that problem for awhile I would go to the background app and force stop Kodi then it would launch. It was quite awhile so I got in the habit of going to Background force stopping it when I as done watching. And then one day it corrected itself. And working fine now.
Thanks for the info.appreciate your time.I have uninstalled and reinstalled kodi.a couple of hours and it seems to be working fine.I will avoid fen for a while.I luv it too.I will give Ezra a try.
Glad to hear your back up and running.
I did realize Troy has the installation guide for Ezra, I'm just always surprised at it's lack of popularity amongst the users here.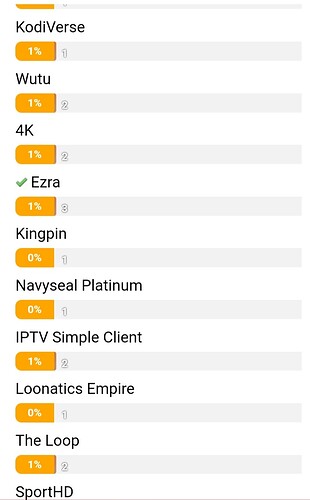 I didnt know about them, Im going to check it out! Troypoint has excellent videos!
Well, I've been saying no issues with kodi 20.1. But, as of last nite I've been having issues trying to close out a tv show. I then have to force close … today was watching and did same thing. When I got the show back all were Uncached. Reauthorized rd , same. This is all crew. Went to Seren, brought same show up no problem. I believe we have a short circuit some where. I'll check log tonite, and may go back to 19.5 and see what happens
Update: no errors in the log! So, kodi, or crew.