Vpnsafetydot has a mandatory update today. Going forward you get a free trial period and then you have to pay.
just put an ip app on the screen and say bye bye

I don't mind paying as long as they continue to support it. I have tried to quit cold turkey, but keep going back. I'm addicted. I can't help it.

Added features that cover the same stuff as other apps I have. Damn. I loved this app on my Max.
Do you think Troy will still support this app and have it on his RAI, now that it has gone premium?
Sorry to hear that. Although, the app is fairly good, but not worth paying for. Besides, I rarely ever use it anymore.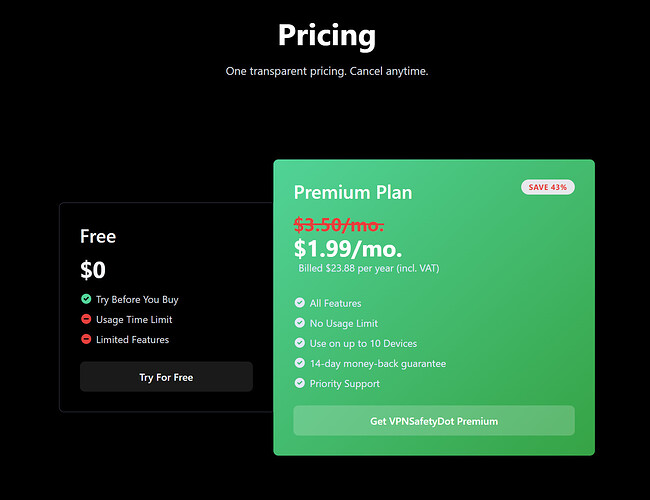 I know I've mentioned it before, but it is something that I have taught my family to always check. That way I can be confident when they are watching stuff without me there. If there is something else, I would use it. But I don't think there is…
I would think this app could be ported to an opensource type. As it stands it would appear it sends info back to them and honestly I see no reason for that. They have taken a simple app and generated a large following and now drop a bomb on it requiring a monthly fee that inho is not worth it.
Presumably this displays your IP address so you can see if your vpn is on. Please can you suggest one?
Using SurfShark on some devices it will display their icon when the VPN is connected. Also, I setup SS to automatically connect when using certain apps. They also have a Kill Switch system built in to disable your internet connection if the vpn connection drops and an Auto-Connect feature to connect when you turn on your devices.
Basically, if you are concerned about folks not using a VPN. Then using SS can alleviate most of those concerns.
Yep and Troy recently put out a video showing how to get the surfshark widget on your screen.
How to Install Surfshark Widget on Firestick/Android (Fix Widget Failure)
They can keep their dot

In case there are other fools like myself it was $32.97 Canadian.



Any suggestions? I've looked and have had no luck
Mine is still working free so I'm going to keep using until it stops. Everyone is petrified by copyright infringement but I read an article about how isp let's customers get countless violations before even considering termination of services. The way everyone here is scared to death of copyright I found it very surprising bc y'all act like if you get one copyright strike you'll lose your isp which in my opinion all the cord cutter resources I've used except for stremio will never get you in trouble with copyright. I've used all the cord cutter resources for three years without VPN and never had a virus or data leak or copyright strike.
suggestions? you mean to replace the dot? I just use a widget on my main screen and if your vpn has a kill switch theres really no need for a dot.
Oh I have Surfshark, have the kill switch, have all that good stuff. My eyes still look to the top right of my screen for a green dot. It is comfort for me, whether it makes sense or not.
I opened a thread a while back too, I can't get the widget. I didn't get any responses, so I gave up.
I once had the dot when I used my vpn on the device and loved it but when I moved my vpn to my router the dot was useless…yes I missed it for about a day

It's easy enough to check your IP using things like Analiti. VPNSafetyDot put a little overlay on the top right of your screen showing you were connected or not and doesn't display the IP address. I certainly won't pay for it, regardless of the additional modules for other testing.
SS will display a tiny icon up in the lefthand corner of my tablet and phone, but not on my nVidias or laptops.