No caps, downloader home page put that in the feild, also try browser under home put it in there.
Where did you enter the shortcut? Try "home" in downloader and if that is the one causing issues try "browser" and make sure you have the AFTVnews browser plugin installed.
Done that no help could it have something to do with my vpn?
@Selwyn8673
Sorry for the late response, i missed this completely. Busy around here.
Try turning off your vpn and try again. The rai is downloading as normal with the downloader.
Pls I'm having difficulty installing the Troy point rapid installer on Downloader. My device is Chromecast with Google tv
Getting the attached error . Help me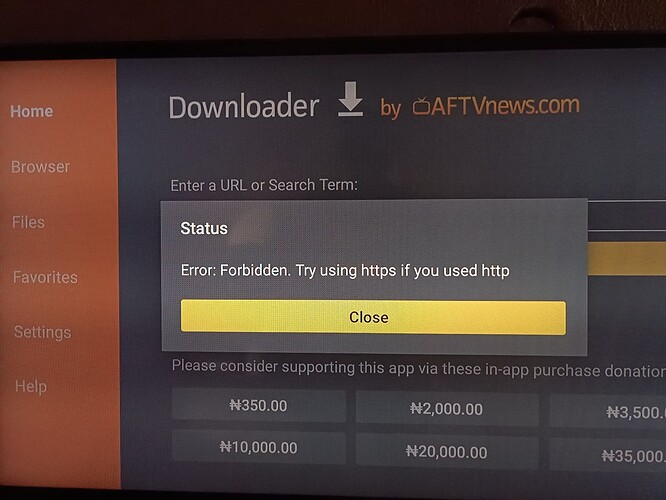 Yes i did and still getting the same error. VPN turned off too.
It has been suggested by some to reboot your device as well as your modem/router. Try it through the browser.
Try it through the Downloader browser or get another browser like Puffin. I would uninstall/reinstall Downloader, as it doesn't seem right. I have never received a message like that.
It is interesting to note that i an also getting the same error message while trying to access kpfiretv.com on Downloader
However, I'm able to access other repository like techdoctor, dr-venture & Firesticktv
@Miki it's working now and successfully installed.
Thank you everyone for your responses, truly appreciated


But I'm having same error message with kpfiretv for weeks and that wasn't the case before now. Really at the point of giving up on that store.
Please can anyone help?
Noted… I am perfectly ok now.Thank you
I believe Kevin Porteous is having maintenance issues. He posted on his Twitter site.
Ihaveinstalled Troypoint hit ciiick goes straight to rapid app installer click it and it tells me sync of app installer still running or failed. Please try again in a moment: 20 minutes: Nothing, Please help
Try rebooting your device.
Welcome to our community, please use our search and report rai problems here.
strong textPreformatted text> Blockquote[quote="PapaS, post:39, topic:75293, full:true"]
Watch video 2
[/quote]
I got the app: I read the warning but didn't know what to do next - now I can't get back to see warning goes straight to Troypoint rapid app installer so I clicked supercharge guide and keep having to reenter email- did again and still can't get back to read warning area
I am having the same issue with the Rapid Loader. I've gone the extra mile, Forced Stop, Clear Cache and Data. Even going as far as uninstalling and reinstalling it. The App shows downloading. It shows that there are Apps waiting but doesn't do anything when you click on it, except pulse.
I know I've used it once upon a time and it worked. But not in a very long while have I been able to get it to down load anything.
Hope you can get things cleared up for us unfortunate ones.