For the past week or so I have no video playing on the IPTV on Mad Titans. Audio works fine
Hi. Welcome to the platform.
I think you meant Mad Titan Sports.
Just tested few categories in Live IPTV and all seems to work except SLing TV.
The best thing to do is to update the repo. Go to.
Add-ons> Install from Repositories> Magnetic Repo> From your remote control long press on Ok button> Then with the arrow down from the remote and click on Check for updates.
Note: I always use VPN in combination with Real Debrid.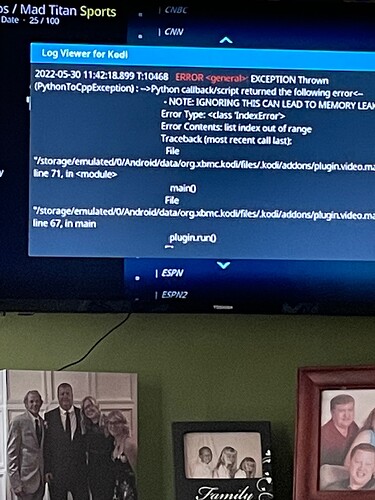 Hi there, thank you for the response but there was no update found. The picture I attached shows a problem with the Python link, any suggestions?
What version of kodi are you running?
This is a python script error. As @TP-Dracoo asking it could be Kodi version.
Check to see if madtitans has had a update, you can update your addons and apps within kodi.
Checked versions within the information screens and all updated, this one has baffled me lol
This is (PythonToCppException) script error often occured when you try to run something in add-on the python script can't run trough the Index file.
This could be skin add-on, player, ore a link error, what's strange about this file is it also shows the folder location.
It could be that something accidently deleted, and ore something have changed in the kodi add-on player settings, because the script can't run smoothly, and the cause will be showing in the log file and it's very long.
In my opinion, and if you don't have many add-ons installed on your kodi device, you can try to clear the Kodi App "Data" not the cache.
Then clear system cache from the

.
Restart your device, then run Kodi and install the add-on again and try to see if the problem solved.

Hi,
Thank you so much for the time you are taking in trying to help me with this issue. I only use 3 addons so I cleared everything and started new with Troy point kodi stable and put my addons back on and it is doing the same thing. Will try any other ideas if there're any

Sorry to hear that didn't work. You mentioned that you have other add-ons installed.
Do you receive the same error if you play any video or IPTV from other add-ons.
Because I'm using The Mad Titan Sports, and other add-ons on Kodi 19.4 also from TP without any issues.
I use nightwing which is on the same repository as mad titans and the crew addon. I only get audio when playing an IPTV from SLing.
Ok. As I mentioned earlier in my first post, tested many categories from Mad Titan Sports add-ons, and all works except SLing tv section.
But as you know there's no guarantee given that everything should work, but also if there is no stream shouldn't created those python exception errors for only one part of the IPTV section.
There's few things you can do, if you want, and if you're ready to do that, otherwise leave it as it is, and use similar add-ons to watch your favorite channels or videos.
But if you decided to go for another clean install.
Remove everything from your device, this includes kodi version 19.4 Matrix you're using.
Clean your device from everything remains from Kodi like system cache, or trough factory reset to start fresh, but this is up to you to decide.
But this time install Kodi 19.3 Matrix the latest stable version from TP Rapid App Installer.
Kodi on Firestick - TV
Kodi on Android TV Box
Then install the necessary apps like VPN.
Install the add-ons of your choice, check also the list from TP manual for the best sports add-ons.
Kodi Sports Add-ons
Last but not least. Authorize your Real Debrid account with the add-ons.
Remember to restart kodi after those steps.
Then you're good to go.
If there is anything else you like to post pls let us know.

This topic was automatically closed after 7 days. New replies are no longer allowed.