Oh ya I know but just something to play around with if I get bored. Lol
Exactly. That's the way we learn. I love this forum and the multitude of helpful ppl. Like you. I would never have known about this service if not for you, so big time thanks for your contribution to my knowledge.
Tom Sparks gives it a 75 rating as a Tier 1 VPN.
It's been working fantastically for us, especially streaming
Hide.me wasn't that great for me.
I was installing the VPN on my router and Hide.me does not support Wireguard on a router - only OVPN.
As expected the OVPN download speed was very slow 100-125mbps (from 400-450 without a VPN).
While connecting with Hide.me quite a few of my IPTV sites were blocking the shared IP (blacklisted?). I had this issue in MIA and ATL. After switching to NYC I was able to access all my IPTV services again, however Netflix, Hulu, etc. were not working.
Had to contact support for the server I needed to use for streaming. I'm not a big fan of using a specific server for streaming since it's usually overloaded.
I gave up on it and asked for a refund. Support acted as though I was taking away his lunch money.
I used an email alias to sign up for the VPN and support wasn't approving the refund unless the email request for cancellation came from the alias email I signed up with?
If you intend to use their app you probably won't have the same issues as me, but thought I'd share my experience with you all.
Thanks. I don't have it installed on router. Only on KM2 & Shield Pro plus my iPhone. Knock on wood…no issues so far
This is with Hide.me disconnected…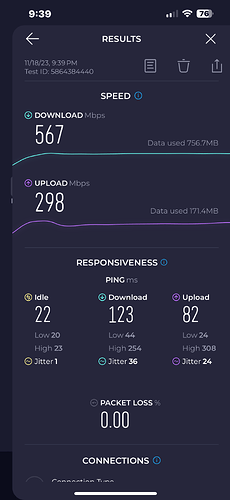 at one point Troy was talking about IP vanish, then he said he likes Surf shark so which one you say is better to choose?Thanks
They're both very good. It comes down to preference. I did use SS longer than I did IPVanish. Don't use either one now
Tried to download/install the hide.me in to the fire stick i got the message
parse error There was a problem parsing the package how can i fix that?
I wish I could help, but I don't use a Firestick. I have it on our KM2 and Shield Pro. I have to update my Formuler Z10 Pro Max so I think I'm going to put it on there as well